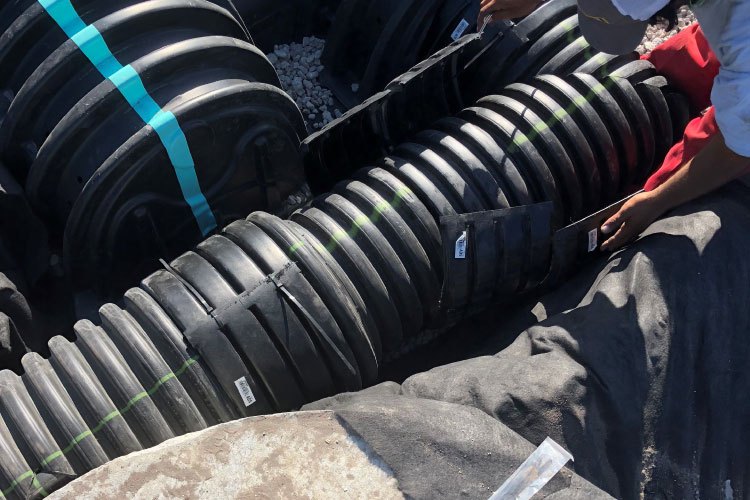 All successful businesses seek to save time and money, whether it's manufacturing, automobile production, or widget making. Construction executives are no different. Scott Tonitis of Elite Development Services saw an opportunity to save both in the early stages of a project in Sarasota, Fla.; his expertise saved $500,000 and expedited construction of a new 24-hour convenience store by several months.
Tonitis' task was to install a stormwater management system on a two-acre site for general contractor Gates Construction. The site posed several challenges — some known, others totally unforeseen — and Tonitis called the job the most labor intensive during his 33-year career as a Certified Underground Utility Contractor. Tonitis solved the difficult job — and accomplished huge savings — by recommending plastic stormwater chambers instead of the concrete structures that had been originally proposed.
"I thought the plastic chambers would be the best system to install and there wouldn't be any problems down the road," Tonitis said. "It made the most sense. When the owner found out how much money it could save, he was all for it."
Gates is constructing a Wawa market on the site. Wawa, an iconic East Coast brand, has more than 700 stores in Florida, Pennsylvania, Delaware, Maryland, New Jersey, and Virginia. The first Wawa opened in 1964 in Folsom, Pa., a suburb of Philadelphia. The chain's name comes from the site of the company's first milk plant and corporate headquarters in Wawa, Pa. Now based in Philadelphia, the convenience store chain opened its first store in Florida in 2012 and has expanded aggressively in the state. Nearly 200 Wawa stores are expected to be open in Florida by 2022. The new Sarasota Wawa is expected to open in October 2018.
Very few, however, will pose the site challenges that Tonitis encountered in his Sarasota project. In almost every phase of construction of the stormwater management system, the Elite Development Services team faced obstacles that needed creative solutions and products that offered flexibility.
The site where Wawa sought to construct the store included Baer's Furniture Store. The store needed to remain open during construction, which dramatically reduced the imprint in which Elite workers could store and use their equipment. In addition, the lot included several existing drainage ponds. To add more parking spaces for Wawa, some of the ponds needed to be filled in.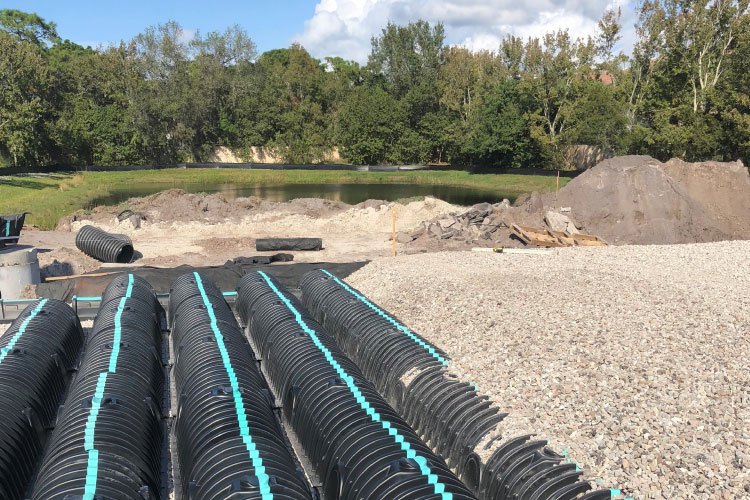 Elite Development laid down 116 rows of Recharger 180HD chambers to manage nearly 23,900 cubic feet of stormwater. The system was topped with 2,178 tons of crushed stone.
While that challenge was routine, especially for Florida, more obstacles became present when Tonitis and his team started to dig trenches for the stormwater chambers. "There was a lot of existing landscaping, trees, and utility valve vaults. We knew about some of them,'' he said. "Others we did not. We had to go around them and modify the system as we went. We installed the system according to the engineer's requirements for water storage, but we had to get creative in how we solved it."
The original system design called for concrete chambers. But when Tonitis discovered the utility vaults and landscaping obstacles, he recommended plastic stormwater chambers manufactured by CULTEC. Tonitis had used CULTEC products in past applications and he knew their flexibility, versatility, and availability could solve the issues he discovered in Sarasota.
"The concrete products would not have been available for months, so I knew we could get it done much more quickly with the CULTEC products," Tonitis said. "The concrete vault system was about two and a half times more costly than the CULTEC system and it would save about 50 percent on labor costs. I told the owner we could save about a half million dollars by using the plastic chambers. He was thrilled."
The underground electrical vaults proved particularly troublesome — and dangerous. While some had been known before the project's construction, others were not known. There were also fire suppression piping and fittings that forced Tonitis and his team to adjust the system as they encountered obstacles.
"Instead of removing them, we were able to work around them," Tonitis said. "We would not have been able to do that if we had been working with concrete chambers. We did not lose any days because we used the CULTEC system. We snapped the system together and worked around the issues that we found. It's an easy system to put together."
Tonitis and his team also worked around existing landscaping, leaving trees and other plantings intact. He also knew that CULTEC could deliver units swiftly, while he would have needed to wait several months for concrete chambers to be manufactured and delivered.
"Concrete vaults are expensive," said Dan Gera, a technical specialist for CULTEC. "Once a system is designed with concrete, the cost savings have to be so great that the engineer will go back to the developer to redesign the system. We give the consultant as much information as we can to make it a plug and play system. We don't take credit for the design. We pride ourselves on giving them as much information as possible."
The system that Tonitis eventually installed was one of the most elaborate he has ever encountered. Working with a computer-assisted program on CULTEC's website, Bohler Engineering created a system that included 21 sections of various sizes. While most stormwater systems are long, linear systems that are stitched together with feed connections, the design for the Sarasota project required a complicated map that steered stormwater away from the property in smaller, bite-sized positions. Bohler and CULTEC designed two systems. The first had to be scrapped because the footprint extended into an adjacent lot. Engineers reconfigured the system with a smaller footprint but bigger chambers.
The complex design included 1,023 Recharger 180HD chambers. They measure 7.33 feet long and are 36 inches wide. They offer 163 gallons of storage, or 3.45 cubic feet per foot. The mid-size chamber is typically used for installations with depth restrictions or when a larger infiltrative area is needed. In all, Elite Development laid down 116 rows to manage nearly 23,900 cubic feet of stormwater. The system was topped with 2,178 tons of crushed stone.
"The majority of stormwater management systems are rectangular or square," Tonitis said. "We couldn't do that in this case. We had to go around a lot of encumbrances. There are a lot of stops, starts, and loops. We discovered a lot of things we had to go around as we built the system."
"I grew up in the business, and this is the most comprehensive install we've ever done," Tonitis said. "There were a lot of obstacles, but in the end, the owner was very pleased that we were able to get it done and save him a lot of time and money."
---
Thomas Renner, who is based in Connecticut, is an award-winning journalist who writes frequently on construction, manufacturing, and other trades.